June 2009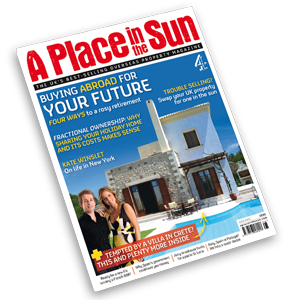 In this issue...
Careful financial planning will help you make the most out of your golden years - we look at four ways to use property to top up your pension.
Year round appeal, with skiing in winter and long mountain walks in summer, plus stable property markets make buying in the hills of Austria, Switzerland or Germany an attractive prospect.
The Spanish Tax Grab; A British couple who sold their Spanish property in 2004 have won a £10k Capital Gains Tax refund from the Spanish government - could you be owed money too?
Kate Winslet: English Rose in the Big Apple. Depsite her Oscar-winning status, Kate Winslet loves to lead an ordinary life at her properties in the Cotswolds and New York.
Plus, as always, this issue is packed full of the latest goings-on in overseas property, from the British couple who had their home demolished in Spain to Turkey's growing popularity, and all the highlights of the A Place in the Sun Live exhibition. There are homes galore in our regular Properties of the Month pages and this month's Property Hunt sees Adrienne Brown from West Sussex search for a pad in Italy, Portugal or Spain that's easily reached from Gatwick airport and close to a golf course - we were only too happy to lend a hand. And our panel of experts answer some of your queries on buying, mortgages, emigration, finance, currency and legal issues.