July 2011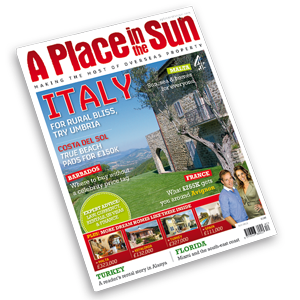 In this issue...
This month we look at a couple of very different parts of Italy, Umbria's Tiber Valley and the beautiful island of Sardinia. We help Adrian and Carol Pariser from Hove in Sussex find their dream home in the South of France and continue our tour of the Caribbean with a look at some affordable properties in Barbados.
Editor Richard Way takes a trip to the mediterranean islands of Malta and Gozo for a look at the wide variety of new developments to choose from.
There's the first of a new series on buying property in Spain with a look at how close you can get to the beaches of Costa del Sol with £150,000 and we catch up with Loraine Tonkin and Peter Williams who have bought a B&B for walkers in central Portugal.
There's also our pick of the best properties or sale from around the world in 'Hot Properties' plus many more to boot in our property directory, plus Jonnie Irwin and Jasmine Harman tell us which were their favourite destinations in the last series of A Place in the Sun: Home or Away?