January 2011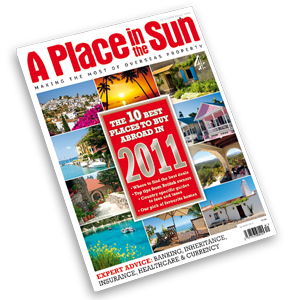 In this issue...
At last, the definitive guide to the ten best places to buy a holiday home in 2011 has arrived. We've scoured the planet, researching standards of living and property options to give you the information you need to make your decision. The usual favourites are still there, but there are a couple of surprise new entries on the list too - will your dream destination measure up?
Once again, Spain tops the list with hundreds of our readers and exhibition visitors telling us why they choose the land of sunshine and siestas to buy their holiday homes. We look at the property options available right now and suggest some new locations you may not have considered. We learn what you can buy on a budget and find out the cost of buying and owning a detached four-bedroom villa in the mountains near Javea. We meet Kevin and Shirley Armitt who have bought a villa in Murcia after missing out on one after the infamous 2010 ash cloud.
Unsurprisingly France came a close second with Brits still flocking across the channel to buy their second homes. We look at some different options and learn what mortgage options are currently available.
Followed up by Portugal, Italy, Florida, Turkey, Greece and Cyprus, the top ten appears to be the usual line up of old favourites, but this year new entries Malta and Egypt completed the line up of top destinations.