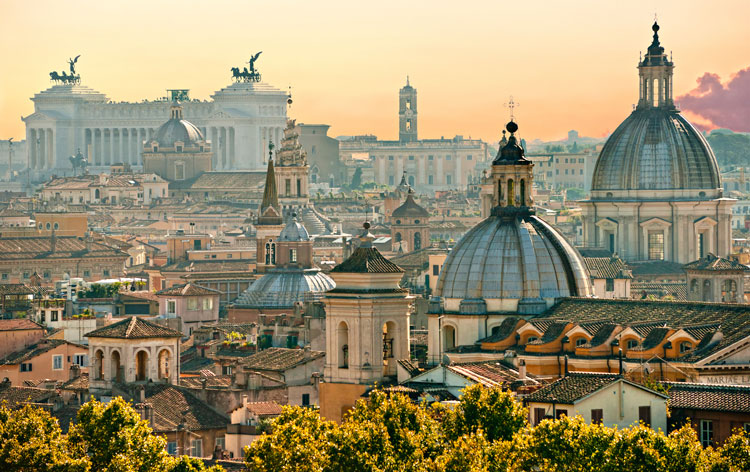 Updated in February 2016
Whether it's a Tuscan farmhouse, Sardinian villa or an apartment with views of Lake Como, we find it hard to resist Italy. George Clooney, Helen Mirren, Sting and our own Amanda Lamb are amongst those who have found this to be true and bought a home there. Not surprisingly this historic and effortlessly stylish nation that remains one of our top five second-home locations.
A vast choice of ancient hill-top towns, medieval cities and characterful farmhouses are now within easy reach thanks to low-cost airlines, and are now more affordable: property prices are still sluggish as the country has been slow to emerge from the global downturn.
Fashionable areas such as Tuscany remain 30 per cent down on the 2008 peak although areas dominated by wealthy Italians – the Lakes, Liguria, Sardinia - have held their value better. If you're a cash buyer (mortgages are hard to get) and can stomach doing business with the laid-back Italians, then purchasing an Italian home can be immensely rewarding. Plus there is no inheritance or wealth tax.
Where to Buy Property in Italy
Historically the Lakes in the north of Italy were the first areas to attract overseas second-home owners, and for their beauty, accessibility and dual season appeal. Lake Como – also home to Sir Richard Branson – is more fashionable than ever although can be surprisingly affordable, with apartments with a view for €100,000. 
Most popular with the Milanese, Maggiore is elegant but similarly priced, whilst Garda tends to appeal to the actively inclined. Iseo and Orta are less popular, however Lugano remains sought-after for those after a mix of Swiss efficiency (or tax regime) coupled with Italian culture. 
Tuscany and Umbria then became a big hit in the late 1900s when many buyers dreamt of a farmhouse amid rolling hills within handy distance of those beautiful medieval villages or Renaissance cities. The area in Tuscany around Arezzo, Siena and Florence – the so-called Chiantishire – became fashionable and expensive and you won't get much change from €1 million for a well-presented six-bedroom farmhouse with a pool in Sting and Trudie Styler's patch of Arezzo. 
That said, some prefer to escape the tourist buses and communities of British expats and Lucca slightly north has been growing in popularity; as has the Garfagnana, Lunigiana or Bagni di Luca where prices drop – you can get a two-bed home for less than €100,000.  In neighbouring Umbria, the area around Lake Trasimeno and nearby Perugia remains of high interest. 
Le Marche, south of Tuscany, is also now firmly on the radar of overseas buyers, and in San Benedetto del Tronto you are both close to airports and beaches.  The area is popular with second-home owners from Rome, so you are looking at around €125,000 for an apartment. It's close to the border with the Abruzzo region, a wonderfully undiscovered and green area which is highly affordable – find plenty of options for €50,000 to €100,000. You can do ski and beach in the same day in some!
Italy's coastal areas have grown in popularity, with >Puglia leading the way after a couple of years of high-profile owners, celebrity weddings and a growing fame with foodies. British buyers tend to love the area around Ostuni and Martina Franca where houses are available for well under €100,000. Be careful of buying a trullo (listed cone-shaped stone house) because these can be expensive to restore and also might be illegally extended.
Heading back north Liguria has also gained greater interest, and in this stylish area close to the Cote D'Azur in the attractive town of Imperia you can get an apartment for €150,000. 
If the Italian islands appeal, head to Sardinia for affordability (outside the chic Costa Smeralda), and in the lovely little beach town of Valledoria, you can buy a two-bedroom apartment for €80,000; Sicily tends to be surprisingly expensive due to lack of supply. 
Cities have also been growing in popularity but are more expensive: Florence, Venice and Rome are all popular for holiday rentals and the Airbnb market.
How to Buy Property in Italy
The buying process starts with a proposta d'acquisto, a short contract and small deposit (up to 5 per cent) taking the property off the market while basic checks are made. The deposit is usually repaid if the purchase fails due to legal problems.
Next is the legally binding preliminary contract, contratto preliminare di vendita, which defines all selling conditions such as a description of the property, rights of way, payments and timing, ownership rights etc. On signing this contract, the purchaser pays a deposit of approximately 20 per cent of the property price.
At this point, a notary (notaio) is appointed, the independent legal body that prepares and coordinates the searches and deeds, acting on behalf of the vendor and purchaser. The final contract (atto or rogito) is signed at the notary's office.
Purchase taxes and notary fees are paid by the buyer at the signing as well as the balance of the purchase price. Once all documentation is signed and all monies paid, you will be handed the keys to your Italian property.
More advice about buying in italy
Buying Costs
In total, you should budget for around 9 per cent of the land registry (cadastral) value for a second homes (this went down from 10 per cent in 2014) and 10 per cent IVA (VAT) of the purchase price on new builds.
On top of these purchase taxes you will also need to be notary fees (1.5 to 5 per cent of declared price); legal fees if you use an independent solicitor (1- 2 per cent); maybe a mortgage tax/arrangement fee (if applicable) plus some small State/Cadastral taxes.
You will also pay estate agent commission:  a hefty 6 per cent is split between buyer and seller (plus VAT) but do negotiate!