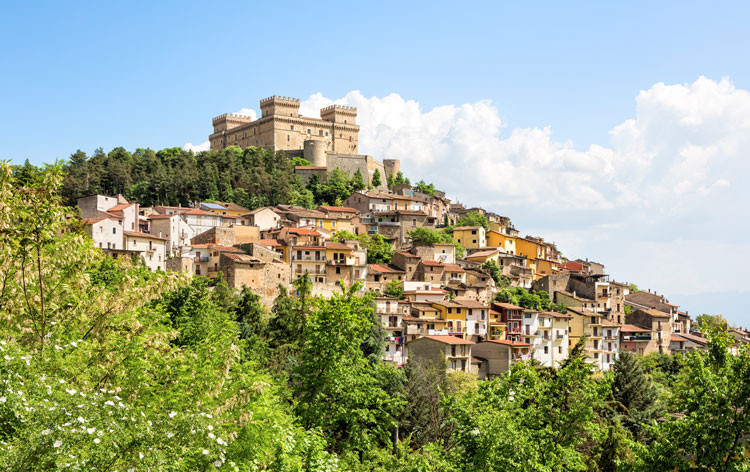 The Italian region of Abruzzo is an affordable and charming region that has been slowly growing in popularity. Wine lovers will be familiar with its iconic Moltepulciano D'Abruzzo as well as its white grape partner, Trebbiano D'Abruzzo.
Indeed, the sheer range of Abruzzo's landscape goes some way to explaining the appeal of this somewhat undiscovered region. Surrounded by popular Le Marche and Umbria (to the north) and Lazio (to the west), it's easy to see why Abruzzo doesn't always get its fair share of the limelight, although part of its appeal is that it is not a hotspot for international property hunters.
Property here is as much as 50 per cent cheaper than Tuscany, and 80 per cent cheaper than Umbria. The Apennine mountains cut right through the Abruzzo region) and there is a vast area of National Park land to explore – there are three different parks and winter sports fans head to the mountains (the best-known ski resort is Roccaraso, offering 120km of pistes). 
The Abruzzo landscape changes drastically as it stretches down to the Adriatic Coast. Summarised by long sandy beaches to the north (pebbly to the south), Pescara is renowned for its seaside tourism, lakes and numerous museums.
Approximately 5km from the city of Pescara, Abruzzo International Airport welcomes daily Ryanair flights from London Stansted. The provinces of Teramo and Chieti are steeped in history, both well known for a number of ancient Roman ruins, as well as fabulous medieval cathedrals, whilst L'Aquila is still being rebuilt after the 2009 earthquake.
Where to Buy Property in Abruzzo 
There are fewer obvious "hotspots' in the Abruzzo than areas such as Tuscany with its "golden triangle" of sought-after towns but there are certainly some locations that have attracted notable interest.
Fossacesia, a hilltop town located in the north-west of Chieti, has a sizable community of British owners. With a famous abbey and plenty of sixteenth-century villas, a two-bed villa there with a sea view (it is 2km from the Adriatic and close to the seaside town of Pescara) might change hands for under €150,000.
But it is Pescara (in particular the north of Pescara) that attracts the most British buyers. They tend to look at properties in coastal areas, typically 30 minutes or less from the sea, according to agents. Certainly it's worth looking in areas surrounding the city of Pecara – like Citta San Angelo, Martin Sicuro and Penne.
In Citta Sant Angelo - with historic architecture, food and wine contributing to its popularity with tourists, you might pick up a renovated four-bed home for around €350,000; but if you are just seeking a compact bolthole, you can pick up a small apartment for around €60,000.
If you prefer more of a rural feel than that of an Adriatic seaside town, then try Penne. This small town nestled between the Apennine mountains and the Adriatic is still close enough to the bustling seaside resorts and airport.
One can find a traditional townhouse here with three bedrooms (and excellent rental potential) for around €185,000 – significantly less than an equivalent in, say, Umbria; or a rural three-bed home or farmhouse from around the same price bracket upwards.
Or for those that want to handy for mountain sports, a two-bed apartment near the ski town of Roccaraso by can go for as little as €100,000.