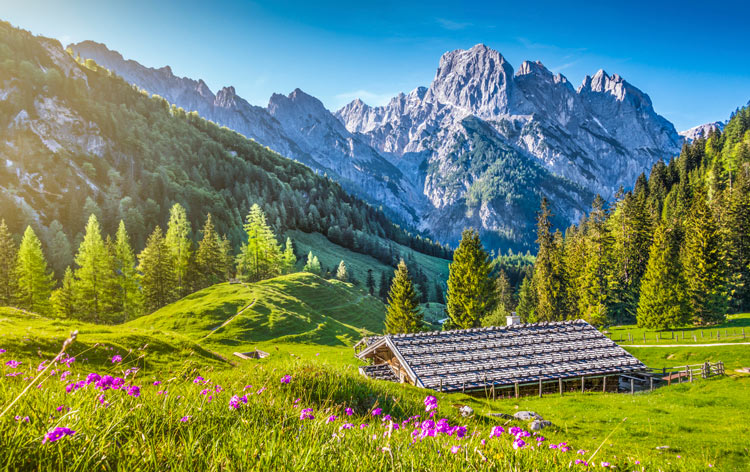 For affordable ski properties, year-round mountain homes, and competitive rental yields Austria remains hard to beat. Beautiful Alpine villages built on centuries of traditional hospitality and love of good living provides family-friendly bases for great outdoors orientated holidays.
Many ski villages are even busier in the summer months when hiking and biking are popular. Austrian property prices are sure and steady, slowly appreciating without the speculation or downturns of their French Alpine neighbours.
Ski chalets can be bought for half the price of comparables in heavily restricted Switzerland, and only a few select resorts in the Tirol and Vorarlberg provinces (such as Kitzbuhel) restrict purchase of second homes to avoid the so-called "cold beds" trend.
To the same end, many new homes are sold with a rental obligation that means owners must make their property available when they are not using it. This does not deter must buyers, as many wish to benefit from the healthy returns as well as enjoyment of their holiday home.
Where to Buy Property in Austria 
Most people buy ski homes in one of three states, Salzburgerland, the Tyrol (Tirol) or Vorarlberg. The southern Carinthia is less popular but a great dual-season location.
The hot spots of Salzburgerland - many of which are an hour or so from the lovely little city of Salzburg and its airport - include the spa town of Bad Gastein.  This offers access to the decent Gastein ski area, elegant architecture, good restaurants, great wellness facilities based around the thermal springs and a good base for exploring the valley.
Apartments predominate property options: new-build or converted historical buildings; expect to pay around €100k for a studio; €200k for a two-bed apartment (resales) or around €300k for a new two-bedder.
Also popular is the historic resort of Zell am See that offers truly dual-season living with its lakefront location and great ski area (with the Kaprun glacier and new link to Saalbach). The family-friendly Salzburgerland resort – 90 mins by train from Salzburg - has offered many new developments in recent years but prices have climbed too, and now resales start from around €170,000. Prices are similar in Saalbach-Hinterglemm (but the skiing better), although Kaprun offers better value.
Other resorts that have been popular in recent years have been the purpose-built Obertauen (high and snow-sure), Maria Alm (authentic), Bramberg (high-end) and nearby Wald (a small hamlet offering better value). St Johann im Pongau is easy to reach by train from Salzburg.
Moving into the Tyrol, which is typically more expensive and tightly restricted, yet snow-sure, if you are shopping for a luxury chalet than you will generally head for classy Kitzbuhel where you will need around €2-4m.
You might also fancy classy Lech (Vorarlberg) with its lovely onion domed church and authentic village feel or the lively British favourite of St Anton where there have been a new-build schemes recently - high-end apartments from around €500k in both. A new gondola opens this season (2016/17) in the Arlberg region - including St Anton, Lech, Zurs - making it the largest ski area in Austria.
Or in Kuhtai, the less glamorous but the highest ski resort in Austria, you can get apartments from around €215k.
Other resorts that have been fashionable in recent years are Ischgl (for parties and a high-end contemporary new scheme resembling an ice block) and Solden has a large popular spa development offering new properties from around €450k, although mostly around €700k.
Although, slowly growing in popularity is Bad Kleinkirchheim, a traditional spa town in the Carinthia state that offers vineyards, lakes and borders with Slovenia. Nearest airports are Klagenfurt or Ljubljana. New ski in-ski out chalets cost from around €350k.
How to Buy Property in Austria
How to buy property in Austria? This is relatively straightforward, with a notary acting on behalf of both vendor and buyer, and overseeing the signing of the deed of sale by both parties.
Budget six to seven per cent for purchase costs (stamp duty, Land Registry, Notary fees) and mortgages are typically 60 per cent LTV in this credit-cautious nation, with the interest rate around three per cent. You can save 20 per cent VAT on the purchase price if you rent out your new-build. Note that non-EU buyers need to purchase by forming a limited company.