The award-winning former BBC correspondent Christopher Morris tells Liz Rowlinson how a Cold War military disaster led him to the sunniest corner of Spain.
Among the many serendipitous reasons that people end up buying a home in a particular place, there can be few others that began with a nuclear bomb (or four, to be precise).
It was covering the story of the worst nuclear incident in America's military history that led Fleet Street's youngest news reporter Christopher Morris to Almería, in southeast Spain, in 1966. He was the first journalist on the scene when a US Air Force B-52 on patrol was involved in a mid-air collision with a refuelling aircraft and jettisoned four H bombs around the tiny village of Palomares.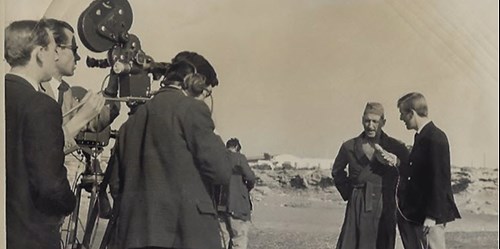 General Franco, the Spanish dictator, ordered him to be expelled, but the award-winning reporter – who started writing at the Daily Sketch – went on to work for the BBC, covering the Falklands War, the Lebanon conflict (and 14 more wars), the OJ Simpson trial, the death of Franco and Earl Mountbatten of Burma and many other historic events, reporting from 120 countries.
He also lived for periods in several of them – Sri Lanka, the United States, Turkey, India, Belgium and Spain – which brings us this back to the story.
Christopher, 81, who was a TV producer too, returned to Palomares several years ago to document the long-term impact of the incident and decided to buy a property nearby.
He and his wife Mary own a charming cortijo (rural property) in the campo (countryside) outside the popular town of Mojácar. "We bought the house 12 years ago after selling a place we had in Englewood, Florida," Christopher tells me from his British home in Royal Wootton Bassett in Wiltshire. He and Mary moved there two years ago from Ringwood in Hampshire.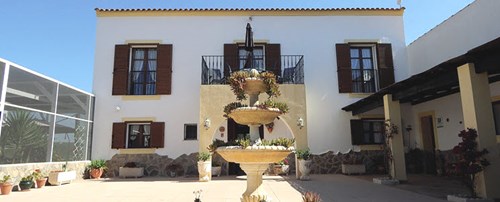 "It was a bit of a chore to go over to the US all the time and we were lucky to sell the property just before the big American property crash. After living in Madrid for ten years [as foreign correspondent for newspapers such as the Daily Mail and being held at gunpoint in the Spanish parliament during the 1981 Spanish coup d'état attempt] Spain always seemed a natural choice. "Almería is one of the most uncommercialised areas of Spain. In fact, it is Europe's only desert."
Although not as popular with British package tourists as the Costa del Sol or Costa Blanca, Costa Almería has been gaining a growing number of international property hunters.
While some love its authentic feel – there are no high-rise blocks in the style of Benidorm or Benalmádena – others like its affordability and bohemian vibe. It has long attracted a countercultural and starry crowd from Jimi Hendrix to the Hollywood stars of the 1960s and 1970s when spaghetti westerns were filmed there – its interior has a somewhat dry and dusty terrain.
When seeking a film location for Indiana Jones and the Last Crusade, Steven Spielberg took a helicopter tour of the mountains and the Tabernas desert and landed at the Mojácar parador for lunch. Scenes were also shot in Almería city's Alcazaba fortress, which was a more affordable alternative to Granada's Alhambra palace.
Find out more about purchasing a Spanish property with our free guide below

"We only live ten minutes from the beach but it's nice to withdraw here to the peaceful campo, away from the madding crowds during the summer," says Christopher, adding that there are two distinct parts to Mojácar: the pueblo (old town) and playa (beach resort). "Mojácar now attracts a mix of 50/50 British and Spanish homeowners and we have made friends across both communities. We both speak Spanish, which helps."
He says the local market has been a little in the doldrums but a property-agent neighbour seems to be "selling a property every day", despite Brexit. "I can't see that Brexit will affect us much," says the former BBC Europe correspondent (between 2001 and 2005, a few years before Katya Adler's current tenure).
His house sits in an olive grove of 300 trees that produce 75 litres of oil every year. It has three double bedrooms and a two-bedroom holiday cottage, giving plenty of room for their three grown-up children to visit. "We rent out the holiday cottage during July and August [for £650 per week] when we are not here and it's been fully booked for 12 years. We tend to use the house six months a year – early summer and late summer into autumn."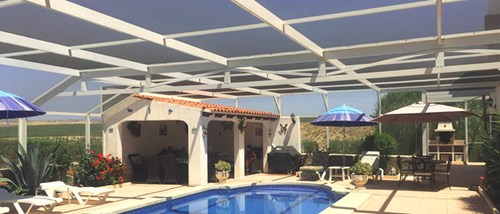 The couple have a swimming pool which they have covered with an American-style lānai enclosure to keep out the flies and mosquitoes. It's popular in Florida and has been invaluable since a nearby farmer's melon crop rotted and caused an insect invasion. "Now the neighbours are copying us," says Christopher.
He admits they nearly bought a home on the nearby golf resort of Desert Springs – where former sports stars Sir Ian Botham and Daley Thompson own homes – but fate intervened and they are very happy to be where they are now, with nearly three hectares of land.
"I love it here," agrees Mary. "It feels rather like a retreat, away from the hustle and bustle of Mojácar that turns into a one-horse town during winter. It's
wonderfully unspoilt, yet easy to get to. The flight is 2.5 hours so it's possible to come for weekends. We eat and drink a lot here, spend hours walking along the beach paseo and see a lot of friends."
And the H bombs? For years after the crash, local tomatoes, lettuce and watermelons did not carry a Palomares label and the stigma of contamination
lingered, despite tests in recent years proving levels were safe. Christopher has detailed the role it has played in his life in his autobiography, which he is writing. I suspect it will be a long job indeed.