Italy's hedonistic appeal stretches from the majestic northern lakes right down to the sun-drenched southern beaches, with all 20 regions offering culture and heritage alongside outstanding geographical beauty and lip-smacking food and drink. Little wonder that Italy welcomed more than 48 million visitors last year, making it the fifth most visited country in the world.
Own a holiday home there and you buy directly into this family-friendly Mediterranean lifestyle at prices that can be surprisingly affordable. "Large parts of Italy are an undiscovered treasure even to Italians themselves and the good news is that you can find exceptional bargains, even in the regions usually considered out of reach such as the Lakes, Tuscany and Sardinia," says Simone Rossi of the Italian property portal Gate-away. 
Linda Travella of the agent Casa Travella has been selling Italian homes for 25 years and agrees that the potential value on offer is still a surprise to many. "Prices fell by 1.4% last year and are not expected to rise until 2018," she says. "The most popular price bracket for clients is around £300,000. For that, you can choose between a three-bedroom house in Sardinia, a one-bedroom apartment in Florence or an unrenovated property in Puglia in two or three acres."
So what does a typical budget of £300,000 buy you in our favourite regions in Italy?
Tuscany
The central region of Tuscany is where our love affair with an Italian holiday home started. Strict planning laws have retained much of the rural beauty and kept new-build to a minimum and while £300,000 might not stretch too far among the prime vineyards of Chianti, there is still plenty that it will buy, says Franco Tamani of My Dream Italy.
"Tuscany is about lifestyle and tranquillity with history, culture and rolling hills covered with vines and olive trees," says Tamani. "A budget of £300,000 can easily achieve beautifully built property there, but with so much available it can be difficult to distinguish the good value from the overpriced. Local knowledge is key."
He points to two-bedroom apartments in a restored hamlet within one hour of Pisa airport selling for €290,000, fully furnished, through My Dream Italy. There are nine homes, with private gardens and a large shared pool. Giardini di Borgo 69 in Arezzo in the Val di Chiana – the largest open valley in the Tuscan Apennines – is a wonderful example of how to sympathetically revitalise older Tuscan buildings with a combination of new-build and restoration.
Built on the edge of a busy, year-round village with wonderful views to Cortona and over Tuscany's olive groves, hills and vines, Giardini di Borgo 69 will have  12 one to three-bedroom apartments divided between two 300-year old buildings. There will be a newly built restaurant and bar while the seven-acre grounds will include a large infinity swimming pool and landscaped gardens. The apartments, most over two floors, all have private gardens or roof terraces, parking spaces, fireplaces and storage areas while owners can share in the oil harvested from the 200 olive trees on site.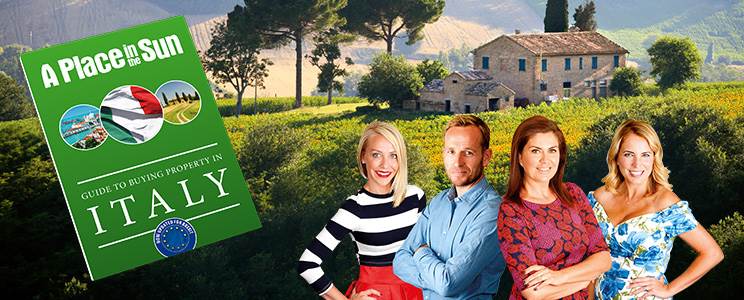 download our free guide to buying a property in Italy
The Italian Lakes
Italy's northern lakes region receives plenty of interest for its celebrities. George Clooney owns a waterfront property in Lake Como where Hollywood chums including Brad Pitt drop by, but away from the big-name villages, there are plenty of beautifully located properties for under £300,000.
"The Clooney effect has made Laglio more pricey than it should be, yet the northern part of Lake Como offers the best value," says Travella. "Centrally around Sala a two-bedroom apartment with beautiful lake view is €270,000, or for the same price in the north you can buy three bedrooms."
Lake Garda is a firm family favourite with plenty to do on and off the water. "Garda is vibrant with an affordable and good standard of living," says Tamani. "Compared with even a few years ago, prices are very affordable."
Sardinia
Sardinia's smart northeast coast has steep property prices but head south on this wild and scenic island and the value is astounding. On a hillside in the village of Domus de Maria, a 40-minute drive from Cagliari airport, the final seven of 50 two and three-bedroom detached houses are €210,000 to €250,000 through Casa & Country. The two-storey homes have space to add private pools, which would help their rental value, and Chia's beautiful wide sandy beaches are ten minutes' drive away.
Puglia
The agricultural southern region of Puglia always represented good value compared with homes in Tuscany or the Lakes. New villas close to the sea in the Salento start from €140,000 through Gate-away while Casa Travella has two apartments, each with three bedrooms, in a blisteringly white villa near Ostuni for €300,000.  The apartments share a 1.5-acre garden and a large pool. "If you want a property with plenty of land then Puglia is for you," says Travella. "Ceglie Messapica represents good value, though prices increase  the closer you get to Ostuni."
Umbria
The landlocked region of Umbria, east of Tuscany in the centre of Italy, also has medieval hilltop villages, bucolic countryside and good access to Perugia airport. The mountains are higher and the forests a little denser than in Tuscany but the beauty of many of the stone houses equal its more famous neighbour.
"That's the beauty of Italy," says Rossi of Gate-away. "Even in lesser-known towns or villages, you can enjoy the full Italian lifestyle. You're never far from the coast, the mountains, outstanding scenery and rich culture in any of our regions. And in Umbria, it is possible to get the deal of your life."