Gill and Paul Clarke from Stockport bought their dream property in Puerto de Mazarron, Costa Calida in June 2015. Below, they tell us all about how they bought their property in Spain, and provide their top tips on doing so.
"We have always had a long-held dream of owning our own place in the sun since we met 18 years ago. We wanted to be close to a Spanish working town and community, near to the sea and the mountains for walks and to immerse ourselves in the Spanish culture. For both of us we also wanted the added benefit of nightlife too so we could dance the night away and generally feel healthier, eat well and lead fulfilling lives after long careers.
We purchased a two bedroom apartment which has a three-quarter balcony on the top floor where we can see the mountains and people watch from our vantage point. We are in an urbanisation yet only a seven-minute stroll away from one of the many accessible beaches.
When we viewed the property it was very traditional and needed modernising, but we looked beyond the for sale sign and envisaged how we could transform the apartment and make it home. We purchased in June 2015 and on return in August we had furniture delivered and painted throughout. However, that wasn't our best idea as it was very hot, but we wanted to put our stamp on it so we spent a fortnight doing it up - only stopping for liquid refreshment and an evening meal!
It is worth considering what you purchase size wise because if you're like us, enjoying life more outside than inside, we just wanted a property that was manageable and homely.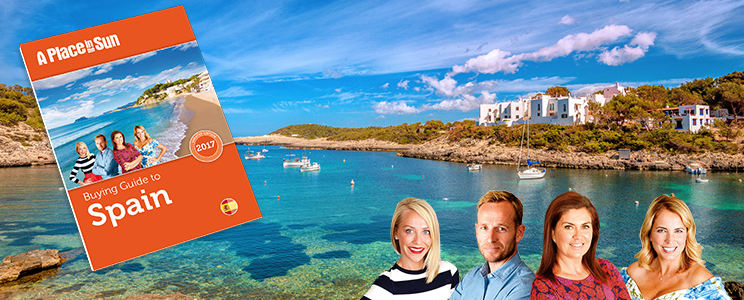 download our free guide to buying a property in Spain
Our advice to people is do your research thoroughly and ask yourselves if you can picture your new lives. Talk to each other openly and frequently, and test your commitment. Gill and I talked about how we would integrate, how we needed to brush up on our Spanish and keep in touch with family, which are all important considerations.
The reality is that the sun does not always shine (although the majority of the time!), there are different seasons and sometimes it can be quiet. We knew that in winter we would travel around Spain and explore more of the country's delights.
How did A Place in the Sun help?
A Place in the Sun was so useful to us as we had only done research on our chosen area via the internet so had limited knowledge. The programme gave us valuable information and advice and was really good in making you think what is important and what you can compromise on. For example, we wanted a rooftop terrace but having stood on one we decided against it and ruled it up.
We cannot thank the programme and Jonnie Irwin enough for helping us see the positives and negatives and then making us think hard and evaluate it all!
We were also lucky that our estate agents Villaquest were very helpful especially Paul who had plenty of information and a constant source of advice throughout the sale and beyond. We also used an English speaking legal firm in the Port who was very attentive. Things may not happen quickly too, so be prepared to wait for your dream home!
Nothing really went wrong for us although there is learning as you go and we are still learning two years on. Speaking some Spanish is a must and helps you to integrate. We visit our apartment frequently in all seasons and as said on the programme we intend to "move lock, stock and barrel" in the near future.
Three words that sum it all perfectly are nerve-racking, exciting and the right thing to do".