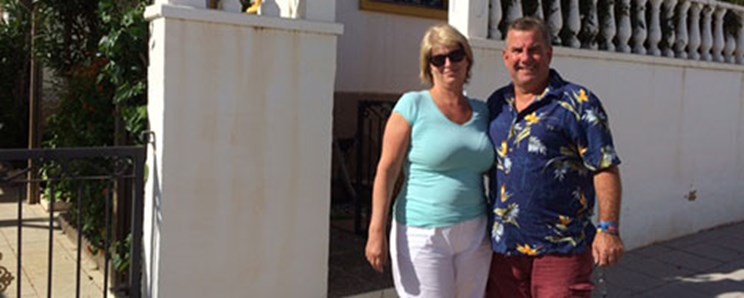 A visit to the A Place in the Sun Live exhibition, where they discovered a payment specialist, made buying a holiday home in Spain a fun experience for Gary and Mandy Carr-Smith.
The Carr-Smiths, from North Somerset, completed on their 'quad' property near Torrevieja in August 2015, following a viewing trip to the Costa Blanca in June.
Their buying journey began almost a year before, when they attended A Place in the Sun Live at Birmingham's NEC in September 2014.
"At the exhibition we looked at different properties and agents, and got an idea of what we could buy in Spain," said Gary. "But we also discovered A Place in the Sun Currency and had a good chat with the team on their stand. We liked the straightfoward way they explained about money transfers between the UK and Spain. So we signed up with them."
The Carr-Smiths then attended A Place in the Sun Live at London Olympia in Spring 2015, after which they felt ready to spend a week viewing properties in Spain. During their trip in June, they found and a made an offer on a property through local estate agent Coast and Country.
At this point, Gary explains how being prepared was a huge benefit: "It was all a bit last minute. It wasn't till we were waiting to board the flight home that I had a call confirming the offer had been accepted. I needed to pay a €3,000 deposit.' 
Having my account set up in advance made life so much easier - they took care of everything and gave me a great exchange rate."
Three to four weeks prior to completion, Gary used his currency exchange account to buy the required amount of euros to cover the purchase of his property.
"The agreed price was €82,000," added Gary, who retired from the Fire Service in May 2015. "But our Spanish lawyer recommended we'd need €92,000 to cover the remaining balance and all the associated buying costs. As the exchange rate was pretty good in the weeks running up to completion.'
Located on the edge of Los Montesinos, the Carr-Smiths' new home is over three storeys and includes three bedrooms, two bathrooms, a solarium and lots of outdoor space.
It comes with access to a communal pool and is a short walk from restaurants, bars and the Vistabella Golf Club. It's convenient for airports at Alicante and Murcia, where the couple can fly direct to Bristol.
"You get lots for your money in this part of Spain," added Gary. "We have two adult children, who each have a child, so they'll also get to use the property."