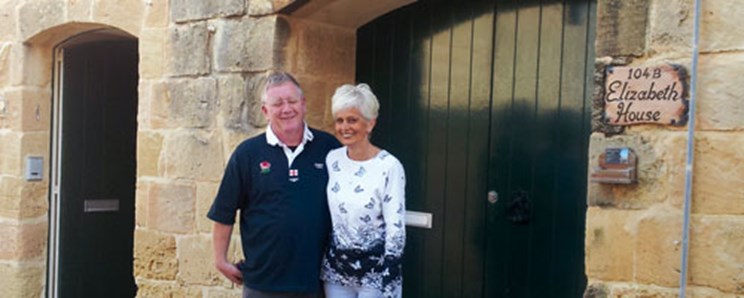 Jayne and Nigel Clutterbuck left the UK to set up a B&B in Xaghra in north-east Gozo, in January 2014. Here Jayne, 49, reveals why they decided to take the plunge.

We'd known each other as teenagers in Northwood, Middlesex, but had led separate lives until we found each other on Facebook 25 years later. Nigel was getting a divorce and was in Canada; while I had had two children, but, after a disastrous gastric bypass, felt my life was in the balance.
We fell in love with Gozo after visiting an old friend in Malta a few times and decided to get married there. While looking for a B&B for our guests, we happened upon a lovely farmhouse with a beautiful courtyard - a sort of coup de foudre. The wedding was called off - I was too ill - but we still wanted to return to Gozo.
Nigel, a recovery driver, had a job interview in Malta, and while we were on the island we looked at some farmhouses with a view to opening a B&B. We had our eye on a new farmhouse, but its construction was delayed, and, with our heart set on moving to Gozo at the beginning of 2014, we looked at alternatives.
The Frank Salt agency showed us some pictures of an alternative farmhouse, available for rent. We recognised "our" courtyard immediately, and knew we had to have it. I'd been so ill, and, with both of us hitting 50 within a year, we decided it was now or never - we needed to make it work.
I knew I'd miss my son and daughter and five grandchildren under five, back in the UK, but at least flights are cheap.
With no central heating in the sandstone farmhouses, the winters can be a bit chilly on Gozo. Our English neighbour is fed up with the "cold winters" and is moving to Australia but it is only for two months a year and not as bad as the UK's.
We intend to rent the farmhouse for ten years, and we're currently paying €1,200 (£989) a month. Here in Gozo, they encourage long-term rentals. The landlord cannot put up the price for three years, and after that only by 10 per cent.
The old farmhouse has four en-suite bedrooms and a private pool, so it is ideal for B&B. In Gozo, you are never more than 10 minutes from a beach, and Xaghra has one of the prettiest town squares on the island. We are charging from €60 to €90 (£49 to £74) per night for a room with breakfast - competitive rates compared with local alternatives.
We've never run a B&B before, but have stayed in a lot, and I worked as a pub landlady for 15 years as well as a palliative carer, so think I have the right skills. We are both "people's people". We've so far had two sets of guests as well as advance bookings, and the nationalities are British, Belgian and Germans, as well as Maltese.
The Maltese and the Gozitans hate each other, so Gozitan B&B owners won't rent to Maltese guests. Yet the Maltese love coming to Gozo for their holidays, so we hope to benefit from this! The rivalry has a religious basis - a competition between saints.
The Maltese often want to rent out a property for a few weeks in the summer, so, if we get interest, we might move out into an apartment for the length of the booking.
We've styled the B&B as shabby chic, and I intend to showcase the crafts and furniture that I have made or upcycled and to sell it to guests. The B&B is named after my grand-daughter, Ellie.