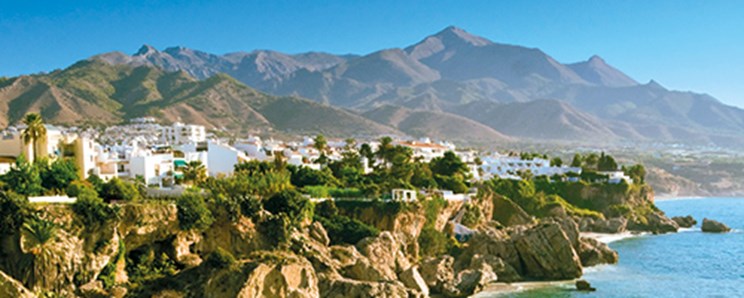 One of the world's best marinas, one of Europe's longest promenades and some of Spain's oldest resorts - the eastern half of the Costa del Sol will always have plenty to shout about. Throw into the mix world-class golf courses and Malaga airport, and it's easy to see why Brits are racing back to pick up homes along this famous Spanish Costa.
"It's as if a tap has been turned on since the start of 2015," said Mia Pearlman, MD at agency Chestertons Affinity. "British buyers are here to spend and not just look - they want a deal tied up before they return to the UK."
"Of course, the exchange rate is helping too. And prices are moving upwards again - there used to be lots of choice for a two-bed apartment with a €100,000 budget, including costs, but now there's very little."
Stretching from Calahonda at its western tip as far as Nerja to the east of Malaga, this part of the Costa del Sol is a coastline of contrasts.
The western part comprises a string of established tourist resorts, where lines of high-rise blocks and apartment complexes fringe busy beachfronts. Heading west from Malaga, you arrive first at Torremolinos - the Costa del Sol's first package resort, then Benalmadena, Fuengirola, Cala de Mijas and Calahonda.
East of Malaga things are less developed and more Spanish in feel. Here, Torre del Mar and Nerja are coastal hot spots but more adventurous buyers head a few miles inland to the pretty white villages and countryside around Lake Vinuela.
Calahonda and La Cala de Mijas
A carpet of apartment and townhouse complexes that fan out from the seafront, creeping inland and over the motorway, the Calahonda to La Cala (de Mijas) patch, often referred to as Mijas Costa, is a firm favourite with British holiday home-owners.
Here, you're never far from the sea or a golf course, including the centrally located Miraflores Golf Club, which is fringed by development on all sides.
"La Cala, with is charming and well equipped town centre and school, tends to be a bit more expensive than Calahonda, despite the apartments in the former typically being a bit smaller," said Pascal van der Woude at Start Group Calahonda.
"Generally speaking, heading inland a bit means you get much larger properties with a slightly longer walk to the beach, for not much more money."
In Calahonda, typical two-bedroom apartments in good condition are available for €100,000 to €150,000, but in La Cala, €170,000 for a two-bedroom apartment is not unusual.
"The last property we sold to a British couple was a three-bedroom, two-bathroom apartment at Calahonda Golf overlooking the nine-hole La Siesta course," continued Van der Woude. "They bought it for €175,000."
The Gran Calahonda complex on the northern side of the A-7 ticks most boxes for today's buyers. Set within gardens and with three pools, it's a five-minute walk from the beach and amenities. Start Group is selling an 80-square-metre two-bedroom apartment there for €160,000.
A more up-market option, slightly further inland but next to Miraflores Golf is Golf Gardens Miraflores. There, three-bedroom, two-bathroom apartments, offering 155 square metres of living space, are available for €300,000. "The Miraflores area is certainly one of the most desirable areas in the eastern Costa del Sol," confirmed Pearlman at Chestertons Affinity.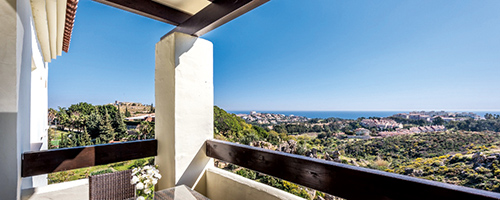 Fuengirola and Mijas Pueblo
Sea views come at a premium in Fuengirola, thanks to the resort being built on completely flat land meaning only the tallest or immediate frontline apartment blocks have uninterrupted views of the Mediterranean. The resort, with its broad sandy beach, marina, restaurants and night life, neatly wraps up everything most second homeowners want from a holiday and caters for all ages.
"Fuengirola centre has undergone some really clever regeneration work over the last couple of years," said Dez Calton at agency Your Dream Home. "With numerous streets having more pedestrianised space, causing a boom in cafes and restaurants with lovely terraces."
Properties overlooking the busy promenade - or Paseo Maritimo - with its bars, restaurants and sea views, are the most sought after and reflecting this, prices are some of the highest in the eastern Costa del Sol.
One area popular with British buyers is Los Boliches, where frontline penthouse apartments and villas can be €1million-plus. Otherwise, Chestertons Affinity has a two-bedroom apartment in a frontline block for sale for €229,000.
Away from the beach action, a noteworthy development in the hills behind Fuengirola and part of the Mijas Golf urbanisation is Puebla Aida, which comprises around 100 properties all built to look slightly different.
"We've just sold a two-bedroom property at Puebla Aida for a €170,000 to a British woman," said Mia Pearlman at Chestertons Affinity. "It was an alternative option to a property she wanted but couldn't get for the right price in Benahavis, the other side of Marbella."
Not forgetting the popular white-washed village of Mijas, perched up a hill five minutes from Fuengirola. "We've seen a surge in people buying up in Mijas," continued Dez Calton at Your Dream Home. "There you'll find beautiful traditional apartments and townhouses, and villas with stunning views starting from around €300,000 and reaching into the millions."
Benalmadena and Torremolinos
A marina twice voted 'World's Best Marina' (Puerto Marina), a modern bustling seafront (Benalmadena Costa) and charming old white village (Benalmadena Pueblo), Benalmadena ticks just about every box and is arguably the most sought after area in the Costa del Sol.
Being a short taxi ride from the airport adds to its appeal. Benalmadena's allure to families in particular extends beyond its beaches and marina - leisure amenities include the Selwo Aquarium, an ice skating rink, the Tivoli World amusement park, a casino and even a cable car taking you up to Calamorro Mountain.
"Benalmadena is a true year-round destination," says Mia Pearlman at Chestertons Affinity. "The most desirable areas here are around the marina, it's the hub of the resort, while Arroyo de la Miel has become the key residential and commercial area."
Ian Goddard at Benalmadena-based Evita Estates adds: "There is a well-established expat community here, which has fortunately become well integrated and accepted in the local population."
"Typically, interest is for two-bedroom apartments ranging from about €200,000. We would suggest that this is at the lower price range, unless you look further from the main holiday area. For example, you will find apartments from €50,000 in Arroyo de la Miel, up the hill away from the seafront. A few minutes either side of Arroyo we have villas from €300,000 to €1million."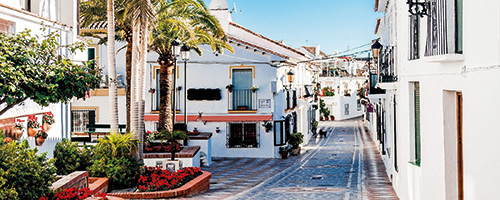 One project generating much interest is Benalmadena Hill Views, a repossessed gated development between the Pueblo and Arroyo de la Miel that has been refurbed and now offers smart, modern apartments with sea, golf and mountain views.
Torremolinos, with its seven-kilometre beachfront and lines of apartment blocks, needs little introduction as an international package resort. Too close to Malaga airport for some, it has gained popularity with the gay and lesbian community in recent years, thanks largely to its colourful nightlife.
The El Calvario district is home to the original fishing harbour, while the Playamar and Pueblo Blanco districts are popular residential areas. You can get studio apartments for around €70,000 if you are a fan (yourviva.com), or one-bedders for around €95,000.
Two-bedroom ground-floor apartment on development within walking distance of the beach and amenities. Sold fully furnished.
Torre del Mar and Nerja
The two largest resorts east of Malaga are low-rise Torre del Mar and Nerja, while a little inland in the area known as the Axarquia are a choice of unspoilt white villages and the idyllic Lake Viñuela.
"Torre del Mar is the coastal hub along this stretch," said Austin Taylor of local agency Buy a Home Spain. "Unlike resorts west of Malaga that were purpose built for tourism, Torre (del Mar) was traditionally a working town that grew out of the local fruit industry. This has kept a real Spanish feel to the place - there are amenities geared towards Brits but they haven't taken over."
"In recent years Torre has received millions of EU funding towards infrastructure, and now has a fantastic long promenade, said to be the longest in Europe."
In Torre, which is just 30 minutes from Malaga airport, typical British buyers opt either for an apartment on one of the small beachfront complexes or a detached villa 15 minutes' or so walk from the seafront.
"We've just shown three sets of British buyers, all who found us at the A Place in the Sun Live exhibition in London, three-bedroom beachfront apartments in Torre priced between €145,000 and €170,000," said Austin Taylor. "And we recently sold a two-bed apartment 50 metres from the beach in the smaller resort of Benajarafe, just west of Torre."
Meanwhile, just over the E-15 motorway is the Spanish market town of Velez-Malaga, gateway to the Axarquia region. Buyers who value authenticity over proximity to the beach, have a choice of affordable character homes in the pretty old town.
"We're selling a two-bedroom house near the fortress in Velez old town for €59,000," said Austin Taylor. "The property was recently renovated by a British couple and includes a lovely roof terrace. In the white villages further inland, which include Algarrobo, Benamocarra, Iznate and Cajiz, we have traditional village houses for sale for between €20,000 and €80,000, depending on how much work they need."
Continuing east from Torre takes you to Nerja, a former fishing village that in recent years has become a friendly-family resort.
"Nerja has expanded considerably over the last 20 or so years but the town hall has been very clear on not allowing high rise buildings," said Paul Mockford of local agency Dream Properties.
"The resort has lots of Spanish charm and in my opinion there is no other holiday town on the coast like it." Recent sales to British buyers by Dream Properties include a €180,000 two-bedroom duplex with its own garden at Capistrano Village, an exclusive hillside development of villas and apartments overlooking Nerja and with sea and mountain views, and a two-bedroom front-line apartment to the west of Nerja centre for €245,000.
search property on the costa del sol