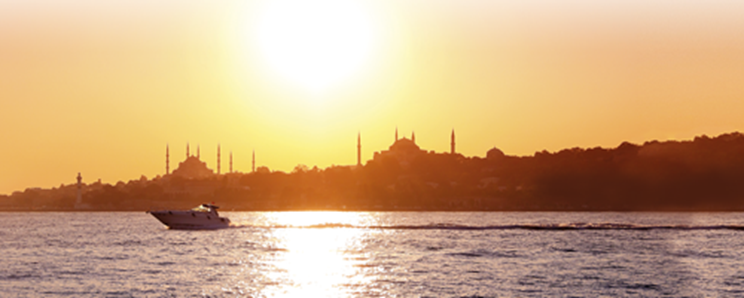 Although thousands of property investors are buying off-plan properties in Istanbul, Liz Howarth is very unusual in that she is a British buyer opting for a city property for lifestyle reasons.
After working as a holiday rep in the resorts of Turkey's south-west coast, she fell in love with the country but felt she wanted something a little different.
"I wanted to buy somewhere where locals live and not over-run by tourists," recaps the 42-year-old charity worker from Aberdeen. "My partner Bruce and I chose a new suburb - Beylikduzu - because we couldn't afford an apartment in one of the central districts of the city."
The couple paid £63,000 for a 105m2 one-bed apartment, bought off-plan through Turkish Connextions. The apartment is in the Blue Residence - a complex of 80-odd units that also offers concierge services, a rooftop restaurant and a gym. Liz's apartment has just been completed, and she is fresh from her first visit to the completed property.
"The finish of the apartment is very good and better than expected," says Liz. "It's much more spacious and nicely finished that a Barratt type home here in the UK. The hallway and communal areas are nicely done too.
"We think we are the only Europeans in the block so far - though not all have sold. Our neighbours are Arabs from Cairo, Jordan, Lebanon, alongside local Turks."
Furnishing is also about a learning curve. "We thought we'd just pop to an Ikea, but struggling to find where to go in the end we asked the apartment block's sales office, and they have been brilliant in helping us source items."
"We have had help from various specialists, including the 'TV man', the 'internet man' and the 'curtain man' - at a cost comparable to the UK." This is more expensive than they had expected, but can be countered a little by the fact their apartment is already now worth £80,000.
The fast-growing suburb is a 45 minute ride by Metrobus into the centre of Istanbul and only a short dolmus (minibus) ride away from the old seafront resort of Buyukcekmece, where Liz and Bruce have been staying when they've visited to check on their apartment's progress.
"We love the buzzing little resort with its bars and restaurants, full of locals. It's not on the tourist track," says Liz. "Very few people speak English."
She is also impressed by the vibrant café and patisserie culture of the immediate area, Beylikduzu. "It's a mini city in its own right with a population the size of Aberdeen!"
She hasn't been worried by the riots in Taksim Square and Gezi Park in the past year. "It's more like a huge commune and I agreed with the demands of the rioters," she says.
The couple have also been travelling to south-east Turkey - another area definitely off the usual sight-seeing tour. It includes the area that used to be ancient Babylon and Mesopotamia - around Diyarbakir on the River Tigris.
"We're spending Christmas and New Year in our new apartment but actually going to stay in the famous Pera Palace Hotel (the historic luxury hotel where Greta Garbo and Ernest Hemingway have previously stayed) and party around Taksim Square for New Year," she adds. "We don't intend on renting out our apartment as we plan to use it ourselves a fair bit."