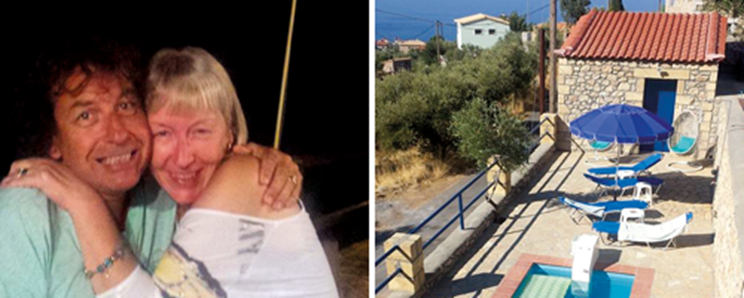 Although it can be more accessible than the far-flung islands, the Peloponnese does not attract the volumes of overseas tourists and property-hunters that the likes of Corfu, Crete or Mykonos do.
Nikki and Brad Collard from Cheshunt in Hertfordshire built their own home in Neochori in the Mani Peloponnese in 2007 but only moved there full-time in 2013. They relish their new laid-back way of life, reports Nikki, 52, a former rail ticket seller.
"We'd been coming to Greece for 23 years on holiday and always loved it," says Nikki. "We visited all the islands, especially loved Leros, where I was baptised at 40 years old, but it was only through reading a magazine article on the Peloponnese that we became aware of the region.
"We came over in 2007 to look at a home in Pylos (formerly known as Navarino) and viewed a typical blue and white 'island' style home but didn't go for it. Mary O'Connor was our estate agent and was very helpful.
"But we then met Ioannis (Giannoukakis) from Domo Architecture & Design at the roadside and he took us to look at some beautiful stone houses they had designed and built. We even went to see one called 'Nikki's House' and I thought it was meant to be!
"Ioannis had acquired some land in Neochori on the side of a gorge and he took us to see it. The nearest resort is Stoupa, but no one's ever heard of Neochori (not to be confused with Neo Chorio in Crete or Neo Choria in Cyprus). It's got a little old village at the top, a new village at the bottom, and we describe the location as 'on the way to the old village'.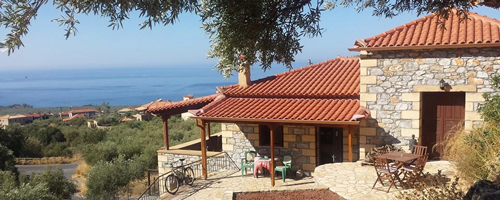 "We loved the spot and I asked Domo to build me a 'Nikki's House' on the plot. It has to have two bedrooms and a small pool and many terraces on a lot of land. It took nine months and cost us €155,000 (£123k) to build (but it's now probably worth £200,000).
"Until last year we enjoyed it as a holiday home but we'd always planned on moving here permanently so we did in 2013. Brad gave up his work as a train driver. Whenever we go home - the nearest airport is Kalamata 1hr 15 mins away from which EasyJet flies to the UK - we can't wait to get back.
"We love doing absolutely nothing. We go to the beach and swim, plant flowers, potter about. We are getting used to the very slow pace of life, but have actually been very busy working on the house and landscaping the gardens."
"We don't have any neighbours apart from the mountain goats - our nearest one is a British holiday home owner and we've seen him twice in seven years!"
"The economic crisis in Greece hasn't really affected us. We don't work so we are not competing for jobs and we always said when we arrived that we wanted to put something into Greece rather than take it out. It's just a wonderful life."

(Originally published in A Place in the Sun Magazine)