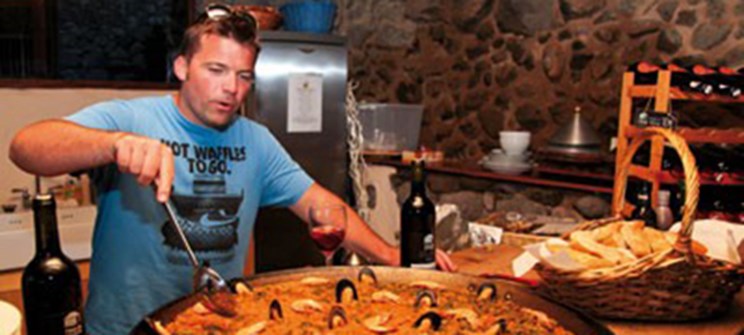 Our love affair with Lanzarote began in 2005, a rather hectic year for the Philpotts. That February, my very pregnant wife and I had our first holiday in Lanzarote.
Our first few trips to Lanzarote were always booked with one thought in mind: winter sun. And the Canaries are the "Ronseal" of winter-sun destinations - especially in February.
So, why buy in Lanzarote?
Having experienced the other Canary Islands, each with their own charm, it is the combination of white sandy beaches, stunning panoramas and a thriving cultural scene which draws us back to Lanzarote every time.
Over the years, we have met many Britons who've relocated there full-time, bringing up their children and running successful businesses on the island.
Of course, location is key when it comes to pricing, too
In the past, we have always stayed in villas at the well-known resorts of Playa Blanca, Puerto del Carmen or Costa Teguise. So we were initially looking in the southern resort of Playa Blanca - but on the advice of friends living in Lanzarote, we decided to broaden our house-hunting search to other parts of the island.
As A Place in the Sun always advises at its property shows, the best way to house-hunt is to get out there. So in September we headed to the north of the island, with its traditional Canarian villages, largely uncommercialised beaches, and stunning natural beauty.
Eco-glamping Canarian style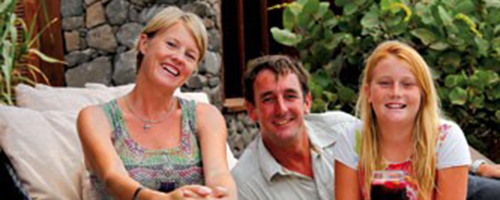 As a base, we decided to stay at Finca de Arrieta. Lying next to the quiet seaside village of Arrieta, it was to be our first experience of "eco-glamping".
Finca de Arrieta is the brainchild of Tila and Michelle Braddock, a British couple.
Back in the early Nineties, Michelle, originally from Dorking, had to come out to live on the island for a year, and met Tila, originally from Welwyn Garden City.
He was working as a surf instructor at the time. Now, in their forties, they have four children: Joshua, 18, Jerome, 16, Freddie, 14, and Monique, 11, all raised on the island.
What started out as a rundown farmhouse and barns - they bought in 2004 - has developed into an eco-retreat powered by the largest green energy system on the island.
Their business, Lanzarote Retreats, has grown not just with Finca de Arrieta, but also has an impressive portfolio of villas, apartments and cottages across the island, available for holiday let. They now employ nine staff.
But it was the eco-retreat, with its eclectic mix of accommodation and "glamping", that most intrigued us. As we drove in, flanked by mountains and beach, we knew this was going to be a very diff erent experience to a resort complex holiday.
The retreat offers a variety of eco accommodation that sleeps from one up to eight: Mongolian yurts, stone-built lodges or barns, all off -grid, with solar and wind energy powering the whole site.
Tila and Michelle have combined their strong environmental ethics and great business sense to create a truly memorable holiday experience, and on our last evening at the retreat we were treated to their weekly paella night.
Over a glass of sangria, I had the opportunity to chat with the couple about the past two decades in Lanzarote, bringing up a family, building a business and what the future holds for them all.
"Initially, we lived onsite whilst we converted the farmhouse and outbuildings, adding the yurts later. As the retreat grew in popularity and our family grew in size, it was time for us to move out."
After so many years there, I asked Michelle what advice she would give to Brits considering starting a new life on the island?
Advice for a new life in Lanzarote?
"Embrace the culture. Lanzarote is the perfect place to do that. Bringing up our family here, we have found the locals so welcoming, they adore children. I think that's why we had so many!
"The resorts are not the reason we decided to live here. Lanzarote has so much more to offer.
"Whilst we're proud to be British, we feel more European than anything else. In fact, I would actually describe the kids as Canarian!"
With their children being bilingual, I asked Michelle how she regards the education system on the island?
"It's fine until they are 12, and then it can fall apart a little. Our eldest, Joshua, went right through the Spanish public school system and he is now a pro-windsurfer. It worked for him. Whereas with Monique, who's now 11, we've just moved her to a British school and she loves it."
School finishes at 2pm and many young islanders then head to the beaches to swim or surf. There are various Iron Man triathlons (swimming, cycling and running) held in Lanzarote, creating an idyllic and carefree lifestyle for sporty teenagers.
With Tila enthusiastically maintaining and updating their various properties, and Michelle running the ever-busy Lanzarote Retreats sales office, was there a downside? Do they miss their families in the UK?
"Yes, but fl ights are cheap and plentiful throughout winter from the UK, unlike the Balearics, and it is only four hours away. And with social media, and particularly Skype, the world feels smaller than ever."
What about further education for the children? Won't they need to leave the island at some point?
"Probably, yes. Whether it's back to the UK or over to mainland Spain, it usually happens. They need to find out about the big wide world. Once they've done that, they usually come back."
And would the Braddocks ever return to England to live?
"Never say never. But actually no! I'd miss the weather too much!"
Meeting the Braddock family has really inspired us to spend more time in Lanzarote.
A few weeks a year there every summer would seem to give us everything we have been looking for.