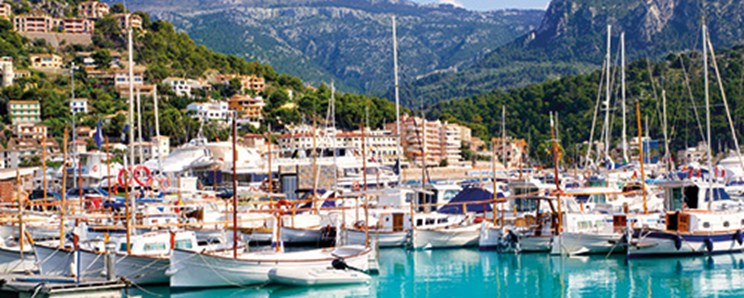 The Balearic isle of Mallorca seems to go from strength to strength. It's not just one of our favourite holiday destinations - with cycling tourism especially booming - but also the place where many of us dream of owning a second home.
But can we afford it? It's a different world from the Costas, where property prices are still near the bottom in many places. According to one of the leading agents on Mallorca, Engel & Volkers, sales increased by 28 per cent in 2014, and their average sale increased from €750,000 to €1.2m. Gulp.
At the luxury end of the market the exclusive parts of Mallorca compete with the Cote D'Azur, The Hamptons or Miami Beach, but there are many more affordable properties for those who love the unspoilt natural beauty of great swathes of the island.
Forty per cent of the island is protected and strict building regulations have ensured that property supply is limited. Yet the sophisticated infrastructure - only a two-hour flight away from many European cities - enables weekends away and even regular commuting, as many European families have decided to settle there for lifestyle reasons.
Making Mallorca a full-time home
One of them is the Matthews family, originally from Royston in Hertfordshire. James and Kim live in a stylish townhouse in the fashionable old town of Pollensa in the north of the island with their two daughters, aged 8 and 11. James works as a yacht broker whilst Kim, a former psychiatric nurse is now a personal trainer who runs fitness classes in the town square.
"Fourteen years ago I was seeking a change of life. I had been working as a broker in Futures in the City and just had enough of the daily grind," says James, now 40.
"We sold up and moved to Mallorca after coming here on holiday and we rented a villa for a while. Eight years ago we bought the townhouse where we have brought up the girls, but we now need a bit more space [the townhouse has a tiny roof terrace but no garden] so are selling up, but want to stay in Pollensa."
"We love the outdoor lifestyle, the fact there is a nice mix of expats rather than a British clique, and the girls love the school here. I travel a lot with my work but there are so many flights from Palma, that it's quick and easy to get to most places. It can be a little quiet in the winter but that is the only downside."
Whilst this property would make a great lock up and leave home for a couple or small family, it's also possible to add value by buying a renovation project and there are still plenty of well-located townhouses available for some TLC: Engel & Volkers have examples from €230,000.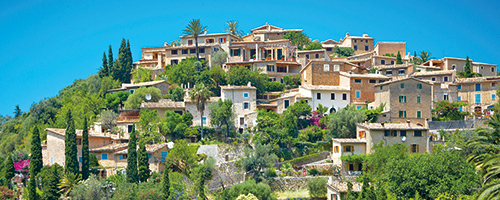 "In 2004 it would have been €500,000 and been snapped up quickly," says the agent Gary Hobson. "But it would also rent well. Two-bedroom properties in the centre of town rent for €2,200 to €2,500 per week."
Although you have to be careful about short-term rental licences in Mallorca (as a rule of thumb townhouses and vertically split properties are OK to rent; apartments are more problematical and require licences), the rentals market in Pollensa is strong.
It recently came top in a list of 20 rental hotspots released by HomeAway.com, whilst TripAdvisor Rentals showed that 55 per cent of properties in Puerto Pollensa are already booked for the first week of August - a higher ration than Alicante, Nerja and Vilamoura and Albufeira on the Algarve.
Puerto Pollensa is the part of town right on the coast, on the edge of the Bay of Pollensa with its superb sandy beaches towards Alcudia. Top cyclists Bradley Wiggins and Mark Cavendish own apartments there, as Pollensa sits on the eastern tip of the Tramuntana mountain range that runs along the northern spine of the island.
"Pollensa is very popular with the British but like Alcudia, can be a little empty in winter. Porto Colom (or Portocolom) on the east coast is better for year round appeal you can find greater value there too," says Folke Sarnmark of Mallorca Houses. "Some of the best sandy beaches are on this part of the coast, and there are some great little harbours too."
Folke's average client is British and spends between €300,000 and €800,000. "Arty, intellectual types love Deia in the north, but you pay a premium to own a home there, with fincas (farmhouses) from €1 million to €4 million," he adds.
In the bohemian hill-top town of Deia, local agent Charles Marlow says property prices are going up 5-10 per cent a year now, and although he has apartments from €295,000, the average sale is €1.2m.
Nearby Fornulutx and Soller - equally beautiful villages between the terraced orange groves of the mountainsides - are sought-after but a little more affordable. "There is more choice for the €400,000 to €600,000 budget," he says.

Liz Rowlinson
Originally published in A Place in the Sun magazine - Issue 122