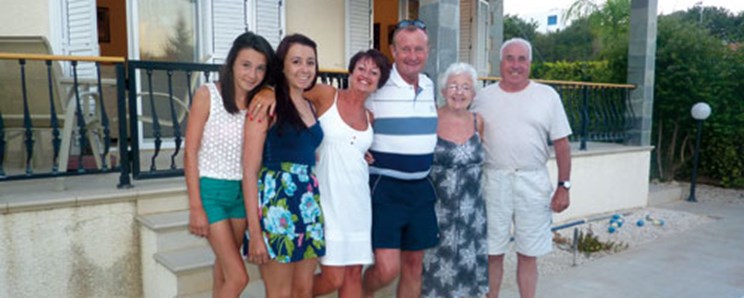 Laurence Payne and wife Louise Rudall-Payne have no regrets about buying in Cyprus just months before the banking crisis struck in March 2013.
Today they own an idyllic second home which they bought for less than the asking price, where they can enjoy family holidays.
A month after Laurence retired in September 2012, the Paynes wasted no time in realising a dream and completed on a villa near Paphos.
They had holidayed in Cyprus numerous times, so knew where they wanted to buy, and after finding and visiting their property a couple of times, were ready to purchase it. The couple, from Llanelli in south Wales, aim to visit their villa five to six times a year, including with their three daughters and two grandchildren.
"The property was simply our dream come true," said Laurence. "I think we probably bought at the right time as prices had fallen considerably and whilst they may have fallen since, we consider we had a good buy.
Our plans were unaffected by the economic problems and whilst our bank has become one of the casualties in the current situation, our accounts have been taken under the control of a new bank and the process was seamless. We're next going out to Cyprus in February and then again at Easter."
Peyia - a little village near Paphos
The Paynes' villa, which was on the market for €249,000 (£208,745) through local agent Fitzgerald Estates, is on a small boutique cul-de-sac on the edge of Peyia, a sweet village 10 minutes from the centre of Paphos overlooking popular Coral Bay.
The property was sold with title deeds and came furnished.
"We did pay less than the advertised asking price," said Laurence.
"And I guess that was down to market conditions. The buying process was relatively painless and our hands were held throughout the process by Daryl Fitzgerald and his team, who did an excellent job.
"We used a lawyer who ensured that everything was attended to in the completion of the purchase, which also included setting up direct debits or standing orders on our behalf for payment of bills."
The Paynes had provided Power of Attorney to their lawyer, so were able to complete without having to make an extra trip to Cyprus.
About the Property
Their property occupies a 490-square-metre plot, which includes a private heated swimming pool, poolside patio, mature garden and undercover parking. Privacy is provided by a tall hedge that circles the plot.
Entering the villa through double doors, an open-plan living-dining area with a stone fireplace is connected to a fully fitted kitchen with granite worktops via an archway.
A hallway leads to the three double bedrooms, each with floor to ceiling wardrobes, and large family bathroom. The master bedroom is en suite and includes a private garden terrace and corner Jacuzzi.
Nearby Peyia is a picturesque village of whitewashed houses, set against a back-drop of hills and overlooking the Mediterranean. It has essential shops and amenities, as well as a selection of cosy cafés and restaurants in the main square.
A short drive - or bus ride - away is Coral Bay, with one of the most popular sandy beaches in the region.
There are three golf courses within half an hour of the villa, including the Tsada Golf Club, just 15 minutes by car. If the Paynes feel like exploring Cyprus's pretty interior, the slopes of the Troodos Mountains are an exhilarating 90-minute drive, with several monasteries to visit along the way, including the famous one at Kykko.
To reach Cyprus from the UK, Laurence and Louise typically fly with Easyjet out of Gatwick direct to Paphos, a service that runs twice a day.
"We could use Bristol, which is closer but the frequency is less, and in addition to that Gatwick prices tend to be cheaper, which more than offsets petrol cost," commented Laurence.
"We normally have a hire car waiting at the airport but we are in the process of buying a car so that will reduce cost. In future, we will either take a taxi to the house or perhaps friends will pick us up. We have got to know a number of Brits who have made Cyprus their permanent home and I don't think they have any designs on returning."
The Paynes don't intend to let their villa, keeping it for personal use, perhaps on a more permanent basis in the future.
"It's simply an idyllic, stunning island with a perfect climate and one where we hope to spend much more time in the future," concludes Laurence.
"We could see ourselves retiring to Cyprus for good but that may not be for a while..."


Richard Way
(Originally published in the A Place in the Sun magazine)