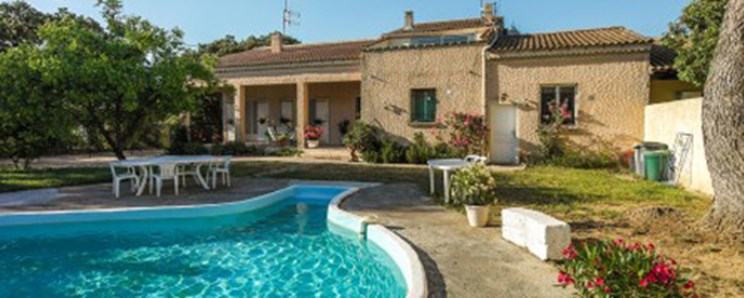 Q: Why should I consider using a currency specialist to transfer the deposit for my French home?
A. An experienced currency trader can discuss your budget and exact requirements with you and help you avoid the risk of currency market fluctuations eating away at your money.
They can arrange a forward contract for you, which essentially locks in the exchange rate at a time that suits you. This means you will know exactly what you will need to pay for your deposit and final property payments, and how many euros you will get for your sterling transfer.
Here's an example of why a forward contract is so useful in this situation. Earlier this summer, Mr. West and family engaged the services of A Place in the Sun Currency to purchase a three-bedroom home in the Languedoc.
Once Mr. West had found his property, his estate agent put him in touch with A Place in the Sun Currency to transfer sterling into euros to pay the deposit. At this point, at the end of July 2015, the GBP/EUR rate was 1.43, meaning that to transfer 12,000 euros (a 10% deposit on a £120,000 villa) he had to transfer just under £7,000.
At this point, sterling had been on an upward trajectory for most of 2015, so Mr. West opted not to book a forward contract to transfer the rest of his sterling into euros at this rate at a later date - meaning that he was at risk of sterling weakening and the rest of his property costing more than expected.
Unfortunately, the financial slowdown in China and the 'Black Monday' that followed, along with the news that the UK would be unlikely to raise interest rates before the end of the year, meant that less than a month later, sterling's position in the market was much weaker than it had been when Mr. West made his transfer.
By the end of September, when he was in a position to transfer the funds to pay for the rest of his property and ensure his initial living costs, the €115,000 he needed purchase cost him just over £85,000 at a GBP/EUR rate of 1.35. This was almost £5,000 more than he had budgeted, based on the rate he had achieved over the summer.
Mr. West's story is a prime example of how the fluctuating sterling-euro exchange rates can negatively affect the cost of buying property overseas, and how important it is to use the services of a currency specialist to protect against risks and maximise your savings.
If you need to place a deposit on your chosen property in France, make sure you give me a call today. We can lock in the rate you want to achieve straightaway, meaning you can plan the rest of your money transfers with price certainty and not have to worry that you will have to find an extra £5,000 for the same amount of money.
By staying on top of the ever-changing exchange rates with your trader and discussing your budgeting needs with them, they can help you to protect against these dramatic exchange rate fluctuations and make the most of your money by booking a forward contract.
If you have any other big international payments coming up, for your final purchase payment, for example, or need to make regular payments between the UK and France at the same exchange rate, talk to your trader today about how they can help achieve price certainty - and take a load off your mind.
Click to view our currency website
Q: How is the property buying process in France different to that in the UK?
A: Buying a property in France is not particularly complicated - in many ways, it is clearer, safer and more straightforward in France than in the UK.
The key difference is that the sale of a property becomes binding earlier in the process in France, which means that, should you find a property on your viewing trip and put in an offer that is accepted, you can pretty much return home safe in the knowledge that no-one else will be in a position to buy it.
Here's a summary of the buying process in France:
Bon de Visite and making an offer
If you are buying through an agent, you will be asked to sign a Bon de Visite. This is normal practice in France and simply means that should you decide to proceed with a purchase, you will make the offer through them and not go off with another agent or privately approach the vendor.
It is not commitment to an actual purchase. You can make an offer just as you would in the UK and the agent must put that forward to the seller.
The Compromis de Vente
This is the first contract, equivalent to the Exchange of Contracts in the UK, and is signed by both buyer and vendor, which means that both parties are committed to purchasing and selling the property.
Upon signature, the vendor is bound to go ahead with the sale, but you are given a seven-day 'cooling off period' and can walk away from the purchase in this time.
After the seven-day period is up, you too are bound to go ahead with the purchase. At this stage, you must pay the deposit of around 10% of the agreed purchase price, to be kept in a separate account by the notaire. There will be a target date for signature of the Acte de Vente included in the Compromis, but this can be changed at any time to suit both parties.
Your currency trader can advise you on the best time to book a forward contract to protect the price of this deposit, and for the final payment to complete the purchase.

If you are planning to buy a property in France and would like to discuss your plans with a currency expert, sign up with A Place in the Sun Currency today!
Opening an account with A Place in the Sun Currency gives you access to your own experienced trader, who, like David can guide you through the process and make recommendations about the best currency strategy to maximize your money.
Click here to open an account with A Place in the Sun Currency.