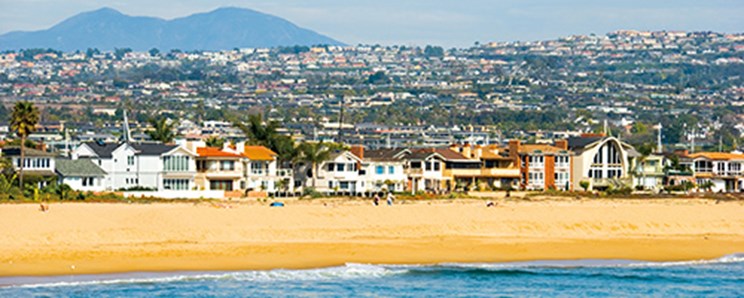 Gordon Miller's been on a road trip to California and suggests it offers a lot more diversity than Florida if you are seeking an American bolthole with year-round sun.
The saying California Dreamin' didn't come about by chance. If you've visited you will forever be dreamin' about going back, especially during our cold, wet winter days.
The weather is undoubtedly one of the Golden State's greatest draws, but it's one of many world-class factors that lures more than 15 million tourists to California each year.
Getting there from the UK
Getting there from the UK is not as arduous of expensive as you might imagine. Flights take approximately 11 hours (thanks to a tailwind, last summer we flew from Los Angeles (LAX) to Heathrow in just over 9 hours). Pick your airline and flight times well, and £700 return is not an unrealistic amount to pay.
Nor does it take that much longer to fly to than Florida, to which most Britons compare it. Given the earth's curvature and the locations of the UK, California and Florida it takes only two hours longer to fly to Los Angeles than it does to Miami.
Ok, so what's the appeal of California? Mountain types should head for the State's North East to Yosemite National Park. You can hike, climb, cycle, you name it in the thousands of acres of wilderness. Many parts are remote, some are touristy, all are breathtaking in their scale, dwarfing anything you'd see in, for example, The Lake District.
San Francisco
Staying north, heading west, you will drop into the Bay Area and San Francisco. Long fabled for its hippy, counterculture lifestyle, today it's high tech heaven, home to Apple, Google and many of the world's brightest minds. It's often described as the most European of the USA's cities with good reason. Its neighbourhoods are built up, narrow streets (unlike the broad avenues elsewhere), and the weather is cooler and changeable.
The coastline heading south (400 miles away is Los Angeles) is rocky with bluffs, sandy coves, pine trees, mainly charming small towns and villages. It's bohemian in the main, running down to the Big Sur region, which is a national park, chock full of enormous redwoods, flora and fauna. This is Route 101. Next stop LA.
Browse properties in California now >>
Los Angeles
LA is everything you've read, and then add some. It's picturesque in parts - rolling, sandy beaches, the Hills overlooking the coast, Beverly Hills and West Hollywood - and it is spread out and can be a grid locked, causing you to spend way too many hours of sunshine in a car.
The sightseeing is special: Universal Studios, Disneyland (the less busy version of Florida's DisneyWorld), and more, much more. It has just been reported in Knight Frank's latest Global Cities report (2015) that Los Angeles is one of the top five cities for "best investment opportunities in 2015" in the view of High Net-Worth Individuals (along with New York, London and Berlin).
But back on our road trip, when heading south, Los Angeles meets Orange County, home to Disneyland and the beachfront communities of Huntingdon Beach, Newport Beach, and Laguna Beach.
Jodie Conneely, a senior realtor for RE/MAX Signature Services based in Dana Point, says the SoCal (Southern California) lifestyle is the one many people imagine when they think of California. "In this region, south of LA down to San Diego," she said, "we have panoramic coastal neighborhoods, ranging from coastal canyons to the Pacific Ocean, miles of picturesque beaches, world renowned surf, beautiful beaches, championship golf courses, vibrant communities.
"Then, nearby we have the contrast of the desert at Palm Springs with its numerous surrounding desert cities, a desert resort with more than 350 days of sunshine, 110 miles southeast of Los Angeles, nestled at the base of the majestic San Jacinto Mountains.
"And the mountains are impressive too - California has an abundance of places to experience the Great Outdoors that cater to those city residents wanting to get away to the mountains, only a two hour drive to your mountain getaway from most Southern California cities, like Big Bear Mountain where you can ski too."
Browse properties in Los Angeles now >>
The Property Market in California
Real estate (as property is called) in the region ranges from $500k (£325,000) to millions (for a palace in which the likes of David Beckham lives). Brian Kamenca (BrianKamenca.com), a realtor, sells in Orange County, particularly around Huntingdon Beach.
"Here," he said, "half mile back from the ocean, you can pick up a three- bedroom, 2.5 bathroom condo for $500k (£325,000).
"You've got absolutely the best weather and interest rates are low in the US, which attracts buyers. A lot of them are local, moving up the list, but we also seeing Canadian and Chinese buyers coming through."
Heading further south - between LA and San Diego - Kristin Bigford (Remax-regal-sandiego-ca.com), a realtor in the San Diego County - San Marcos / Carlsbad area - says the market has started to pick up, as it always does around March after the holidays.
"Around US$500k (£325,000) would buy a studio/one-bedroom condo on the beach or a 2,500 sq ft family house in Oceanside area, 15 minutes inland," she said. "Most properties are newer than the 1960s; and most coastal properties have been renovated, so you'll get a modern place for your money.
"The really great things about buying here is the weather is impeccable all year round. And because we have year round sunshine, we attract a lot of weddings which means there is year round rental potential. That's great if you're from abroad, looking for a little use each year, and to earn rental income the rest of the time."
Bigford says property has been a strong historical investment - "it almost never depreciates in value". Would be buyers should note purchase taxes in the San Diego area are 1 per cent; so Bigford recommends "allow 1.25% to cover everything and you won't be far out".
Remax, which has 108 offices globally, provides a one-stop shop through purchasing, property management and relocation services. "British buyers looking for personal use, and to rent out the rest of the year, will be pleased to know we can let and manage their place for them," said Conneely.
"Really, there are so many opportunities here; and there's just so much diversity of locations and real estate, priced from as little as US$350 (£225,000). SoCal really should be a place for Britons to look at buying into for pleasure and profit."
Buying Property
The purchasing system is different in the USA to the UK. Real estate agents operate under a system called MLS (Multiple Listing Service). The numerous property websites pull the information from the MLS to populate and provide property details.
Although the MLS can be seen and used to search properties by the public, only those real estate brokers/agents that are licensed in that state and members of a local board or realtors association are able to advertise/list their property on the system. So, the buyer can have extra confidence the realtor is bono fide if they're listed on MLS.
Living in the USA
Britons can visit for up to 90 days at a time, but cannot live in the US fulltime without acquiring an immigration/investor visa. There are several types of investment visa.
a. Invest in a business - E2 (Investment of at least US$150,000 [£97,500] into a business)
b. US$1,000,000 (£650,000) to invest - EB-5 (Green card giving permanent residency)
c. There is a wide range of non-immigrant visas. Contact an immigration lawyer to discuss options


Gordon Miller
Originally published in A Place in the Sun magazine - Issue 122