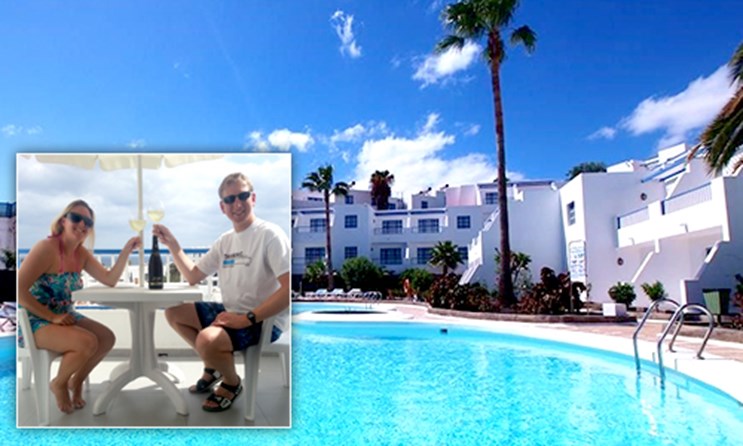 Finding a Lanzarote holiday home was made easy for Barry and Natalie Kimber by visiting

A Place in the Sun Live last year (March 2014) for inspiration and advice from the experts.

And 'sundowners' at their new property taste that little bit sweeter knowing that they saved money on the exchange rate when buying the property.

The Kimber's already knew the island and Puerto del Carmen from numerous holidays, so focused their attention on finding a property in that area.

"I told Natalie we should treat it as a business trip and not a holiday!" said Barry. "We saw around ten places and knew when we saw it that our place was the one, so put down a €1,000 reservation fee - before flying home, we also opened a bank account, got our NIE number and found a local lawyer."

The Macclesfield couple used currency specialist Smart Currency Exchange to exchange sterling to euros for their deposit and purchase, having met the Smart Currency team at the London A Place in the Sun Live! show. They transferred around €62,500 to Lanzarote to buy their one-bedroom apartment, benefiting from Smart Currency Exchange's favourable exchange rates, which are consistently 2-4 per cent better than the rate offered by high street banks.

"We first used Smart Currency Exchange to transfer our deposit of €10,000 to our lawyer in Lanzarote. We then used their services again when we completed on the property in June," said Barry. "It's quick and easy. I simply call up my allocated currency specialist, tell him how many euros I need to send to Lanzarote, and he gives me the price in sterling to buy them at the best available rate. I then transfer the required sterling into my Smart Currency Exchange account by using online banking. The euros have been reaching the beneficiary's account in Lanzarote within two days."

The Kimbers agreed a purchase price of €85,000 with the vendor, bringing the total cost of the apartment in Puerto del Carmen to around €98,000 once the taxes and agent and solicitor's fees were taken into consideration. The property was refurbished five months before they purchased, and came fully furnished, making it the ideal holiday home for the couple.

"Our apartment is perfect for us - on a complex with a communal pool and 200 metres from the beach. We've bought as part of our pension as well as for the lifestyle benefits, so hope to see some return on our investment as time goes on," continued Barry.

"Even after buying the property, we're still using Smart Currency Exchange to make our payments between the UK and Lanzarote," "We make two lots of payments to Lanzarote each month - mortgage repayments and monthly community fees. I'm also planning to fix a sterling-euro rate with Smart Currency Exchange for a year, using a Forward Contract, so I can always budget for my monthly outgoings in pounds."

If, like Barry and Natalie, you are thinking about buying property overseas, or considering a move abroad, the first thing to is make sure you're attending one of the upcoming A Place in the Sun exhibitions.
Then - open a no-obligation account with FCA-authorised Smart Currency Exchange, meaning you can immediately benefit from competitive exchange rates and specialist currency knowledge, saving you time and money.
Get a quote today >>

Read more - download this free guide to saving money on your purchase >>