About Us
International Financing Group specializes in real estate financing in the USA for UK Residents
International Financing Group is now one of the USA's leading independent providers of mortgage loans for foreign nationals purchasing or re-mortgaging US residential & commercial property.
Headquartered in Orlando, Florida, International Financing Group (IFG) has been providing quality real estate financing since 1983. With a proven track record, we serve the lending needs of real estate professionals, builders and developers throughout Florida and the United States. We serve individual homebuyers from many countries around the world.

IF Group is now represented in many expatriate locations, we have found in some cases it is essential to work with our overseas teams based in a particular country; our clients can then benefit from key local information whilst being approved for their mortgage.
Over our 30+ years in the finance industry we have developed a reliable, efficient and dependable service for our resident and international buyers.
We have an industry leading range of residential mortgages and home loans available to non residents of USA . Loan amounts from $100,000 USD to $10MM USD, subject to status, and new attractive terms are available. Easy qualification process for UK borrowers. Call us at (+1) 407 250 6440
Services
IFG have been able to streamline the mortgage procedure to assist customers needing to complete their purchases or remortgages in 30 to 45 days.
USA Mortgages step by step process….
Initial application & loan processing, collecting and packaging of all documentation to support your application. Once this is completed & you have provided your executed purchase contract


We order title commitment, we may order an international credit report (usually 10-15 days to get back)


Agreements & disclosures will be sent out to be signed by borrower(s)


Once signed and returned an appraisal / valuation will be ordered for subject property


Appraisal process takes 7-10 business days


Updating loan package, at this time we may ask for additional documents if needed


Final underwriting for mortgage approval prior to funding


Once you have approval you will need to obtain insurance on the property being purchased


Package goes to Title Company (Solicitors) at this time they will call to go over closing details and schedule closing / completion


Documents are signed and returned to the solicitors, and then loan is funded.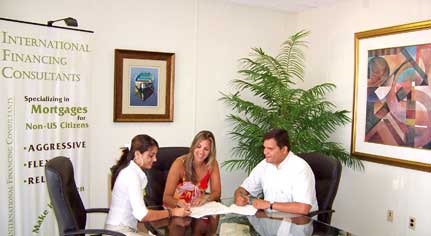 "We invite you to learn more about International Financing Group and we look forward to hearing from you soon."